Tuesday, February 21st, 2017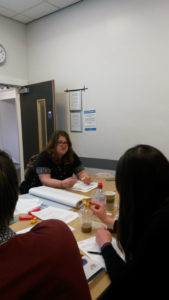 As many of you will remember, last year the NWFed, in partnership with Museum Development North West, undertook a consultation engaging over 300 volunteers from museums, galleries and heritage organsiations across the North West as part of their newly launched training project for volunteers, Support our Skills (SOS).
The pilot training project is now up and running and the small group of selected volunteers who are fully embracing the opportunity to develop their skills and offering much help and advice in how the programme can be taken forward.  The pilot began in 2016 with a short two day introductory session to allow the group time to get to know each other, but also to assist in developing a programme of five sessions which would concentrate on two major themes they were all interested in, namely exhibition planning and production and collection management and handling.
The group's last session in December looked more closely at helping them to develop their presentation skills and the venue was the recently opened In the City gallery space, which is being developed by the University of Central Lancashire (UCLan) in a Preston city centre shopping mall. The aim was to show the potential there was for local museums to use this is as a pop up exhibition/events space. An added bonus was the group learnt about the Lego Serious Play (https://www.lego.com/en-gb/seriousplay/) business development tool and even tried out one of its basic ideas by using a Lego duck activity which was both enjoyable and thought provoking.  Over the next couple of months they will be practicing their presentation skills on each other as they are delivering a half-day session at each of their museums.
The next session took place earlier this year in January and looked at a key element for all museums—exhibition planning—and was hosted at the Harris Museum and Art Gallery, who also allowed the group use of their handling collections and exhibition spaces.
A couple of members of the group are also taking advantage of MDNW and NWFED Fundraising Strategy Workshop programme, as they are particular interested in developing this for their museums.
If you have any queries about the current pilot scheme please do contact consultant Debbie Walker – dwalker14@btinternet.com or call 0784 600 3638.