6th Free NWFED Rethining the Museum event: Doing things differently The Smithy Heritage Centre, 4th July, 1-2 pm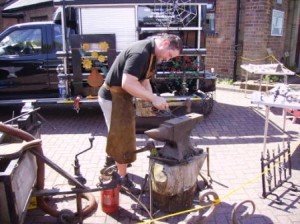 The Smithy is set in what once was the village blacksmith shop in Eccleston, St Helens. The blacksmith shop was still functioning in the late 1970's to early 80's and many of its visitors today still remember Ellis who was the last blacksmith there.
 Eccleston parish Council purchased the building in 1995 and turned it into a local Heritage Centre. The permanent displays depict the trades that the building once carried out and temporary exhibitions change each year to keep catching everybody's attention. Past exhibitions have included everything from mining to the ancient Greeks. Their latest venture is entitled 'Images of War' which is based around the most amazing collection of ex-MOD WW2 photographs. The exhibition was recently noticed by the people of St Georges Hall in Liverpool and the curators were asked to replicate it as part of series of events being held there for the Battle of the Atlantic celebrations.
 The Smithy is run on a budget of £600 so, therefore, need to be very creative and a little adventurous to keep on going. The team there have recently combined their regular International Blacksmith's Day with a local beer and cider event along with a hog roast. This proved quite profitable and the proceeds can now go towards a restoration programme to consolidate and conserve the blacksmith shop.
 To book for this event contact info@nwfed.org.uk or call Chrissy on 0151- 478 4257
Leave a Reply