NEWS: Future Everything Launch ArtsAPI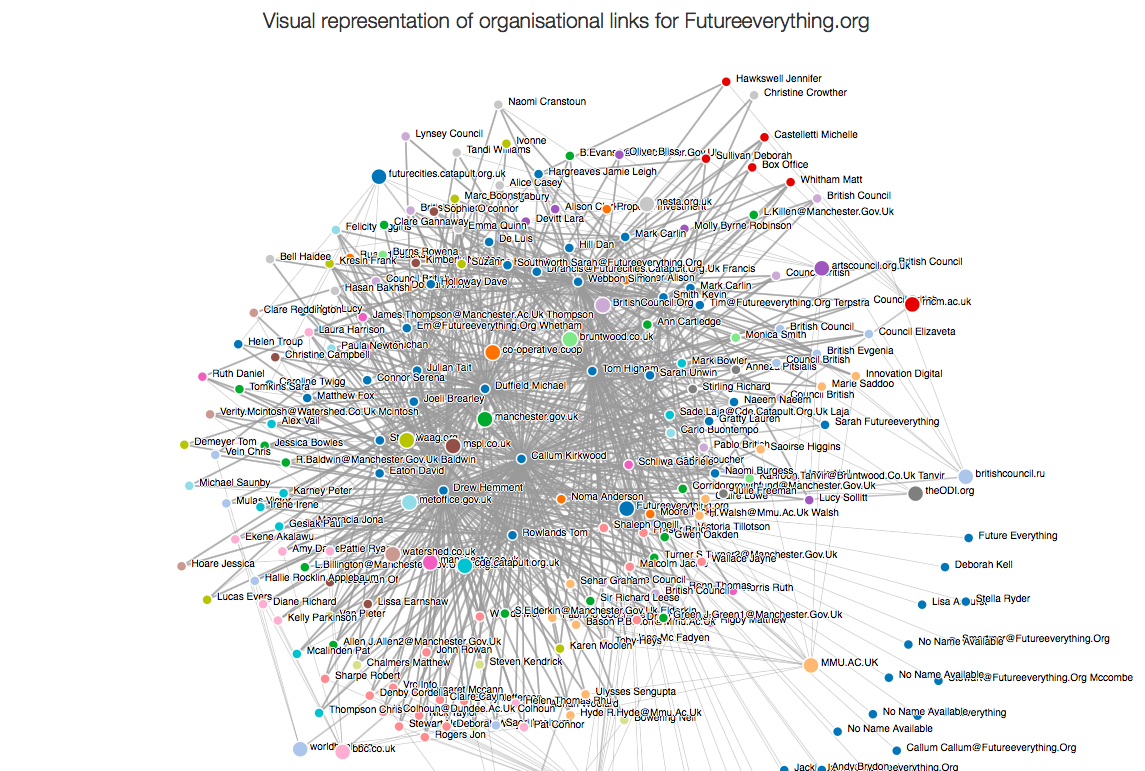 For anyone who has ever struggled to effectively communicate the strength and value held within their organisation's network to potential funders or supporters, ArtAPI could be just what you need.  A free web application developed by the Manchester based award-winning innovation lab, FutureEverything, it is a newly developed web application specifically designed to help arts and culture organisations to show the value and impact generated by their networks.
A year-long project developed in collaboration with the University of Dundee (academic partner) and Swirrl (technology partner) and made possible through the support of the Digital R&D Fund for the Arts, the application aggregates, analyses and presents organisation's network data in the form of an interactive visualisation.  This can then be explored and interrogated from both an individual and organisational perspective, offering insight into how well connected an organisation is to different sectors and to different cities and countries.
Developed from an understanding that numerous  arts and cultural organisations held a significant part of their value within the relationships they create and sustain, but don't use the value in these relationships to its full potential, FutureEverything sought to develop ArtsAPI as a practical solution to help organisations within the sector to leverage other means of support.  As Swirrl's CEO Bill Roberts explains:
"With ArtsAPI we've developed a new way of applying innovative data processing and analysis to help arts organisations better understand their networks and the value held in them. It will be really interesting to see how our research might help enable new insights and ways of working."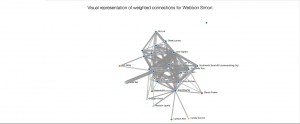 The business use of the insight provided by the application will differ depending on the organisation's internal  structure and processes, but ArtsAPI also offers some ideas for different business models and can help organisations identify possible vulnerabilities, strengths and weaknesses in terms of their communication flow and maintaining a healthy and diverse network.  Joeli Brearley, Project Manager for ArtsAPI explains:
"From the outset we understood that ArtsAPI was a hugely ambitious project. Our starting point was a simple hypothesis: that arts organisations generate but do not articulate or evidence significant value through the relationships they create and sustain. By using email data we have developed a tool that can begin to offer new insight into those relationships thereby creating new opportunities for arts organisations. The current functionality of ArtsAPI offers arts organisations something new and unique that we believe will have significant value for its users. We also believe we have created a valuable foundation from which other researchers and developers can create new tools for the arts."
ArtsAPI will help organisations to unlock the huge potential value hidden within their own data by changing its perceived value from that of a necessary tool for accountability, toward its use as an important everyday tool for longer term business development.
For those less technologically savvy, the ArtsAPI project will also offer a series of workshops, events, publications and training initiatives to help maximise the applications benefit to the sector. Through this training and support programme, ArtsAPI will look to increase confidence and skills and unlock its benefits to as many organisations as possible, whatever their current level of skill and understanding.
Emma Sumner, News Editor
If you are interested in finding out how ArtsAPI could benefit your organisation; Click Here
For a full ArtsAPI 'how-to' guide; Click Here
Leave a Reply