Windermere Steamboat Museum awarded £9.4 million from the HLF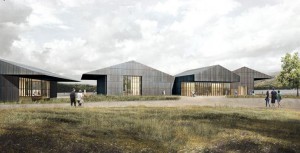 The project will create a new museum on the lake to display the internationally significant collection, connecting boats, people and stories. The high-quality museum facilities will include a wet dock where visitors will see boats displayed on the water, collection displays where visitors can discover about the people who built the boats, who used them and how they were used, an active conservation workshop and a dedicated learning space. New jetties will also connect people to the lake enabling visitors to arrive by boat or take a trip on a historic launch whilst the lake side café will provide exceptional views across Windermere.
Martin Ainscough, Chairman of the Lakeland Arts Trust, said:
'This decision secures a total of £13.4 million investment into Cumbria creating employment and new opportunities for local people. I would like to thank all the project team members who put an enormous amount of work in to developing the plans for the Museum and securing this fantastic grant for the region'.
Gordon Watson, Chief Executive of the Lakeland Arts Trust, said:
'We are delighted that the Heritage Lottery Fund has confirmed the grant to the Museum and thank them for their tremendous support. Immediate steps are to complete design development so that construction can start next year. We are looking forward to re-opening the Museum and welcoming visitors to enjoy the wonderful collection of Windermere boats and take part in exciting new activities and events inspired by the collections and beautiful site'.
Tiffany Hunt, Chair of HLF North West Committee, said:
'This wonderful collection of historic boats is now set to be housed in a new and sustainable museum, spectacularly located on Lake Windermere. We felt strongly that this was a great opportunity to invest a significant amount of money in an area that relies heavily on tourism as well as reveal the social histories behind the local boatbuilding industry. Equally important will be opportunities for people to acquire traditional skills and get involved with caring for these steamboats which are such a culturally distinctive part of Cumbria's landscape.'
The Lakeland Arts Trust has raised over £3 million match funding for the project and needs to raise a further £300,000 to meet the total project costs of £13.4 million.
Leave a Reply