NWFed Board Member Claire Sleightholm reviews our recent sold out event at the People's History Museum #InConversation
In what was NWFed's first face to face conference for a few years, we were delighted to have a sell-out event. It seems museum people are ready to get back together and share. For many, it was the first opportunity in a while to meet up with colleagues from the region, so it was fitting that the theme of the conference was co-production and working together. As the day progressed it became clear that lockdown, with its limitations and unexpected benefits, shaped projects in ways that could never have been expected.
The day started with NWFed Chair Alex Walker reflecting on the benefits of human connection in sharing ideas.
Katy Ashton followed, and as Director of our host venue, the aptly named People's History Museum, she was well placed to suggest that co-production was in the "DNA of the organisation". Going further, she indicated that there was a growing commitment in museums to act as facilitators for today's concerns and, "how [museums] help us think about the world we live in today".
Hearing next from PHM's Programme Officer, Zofia Kufeldt, we learned about PHM's programme-led approach with a new theme being explored every two years. These themes, "explore what it's like to live in post-Brexit Britain," and how our communities have "more in common than what divides us".
The current theme is Migration: A Human Story. Co-production began at the very start of the project with community consultation to create an 'authentic' programme, resulting in a Community Programme Team being put together from diverse community members who had lived experience of migration. A democratic process was used throughout with all decisions made by the team, and the Community Programmes Team members' stories were presented unedited except for spelling and grammar.
Agnes Fough, one of the Community Programme Team, shared her experience of working on the project and telling her own 'migration story'. Despite working through lockdown and the challenges of learning how to use Zoom (one we can all share) she felt supported by PHM staff. So much so, that her questioning of their graphic display, Battle for the Ballot, and its limited representation of migrant and refugee stories resulted in a response being added permanently to the graphic.
Despite migration in and out being a constant throughout Britain's history, these stories are not well represented in PHM's collections. Not satisfied with representation, the project wanted to use these stories as a starting point for campaigning. This is becoming more important with the recent change to the Nationality and Borders Act this year.
The excellence of this project was demonstrated by the museum, and their Migration programme, receiving the Activist Museum Award in 2021; a prize given in honour of the pioneering work of Professor Richard Sandell on museums and social justice at the University of Leicester.
We were delighted to hear from Richard himself next, whose presentation 'Activism as Ethics' set out a position that socially purposeful work in museums is not different, but instead a fundamental way of working.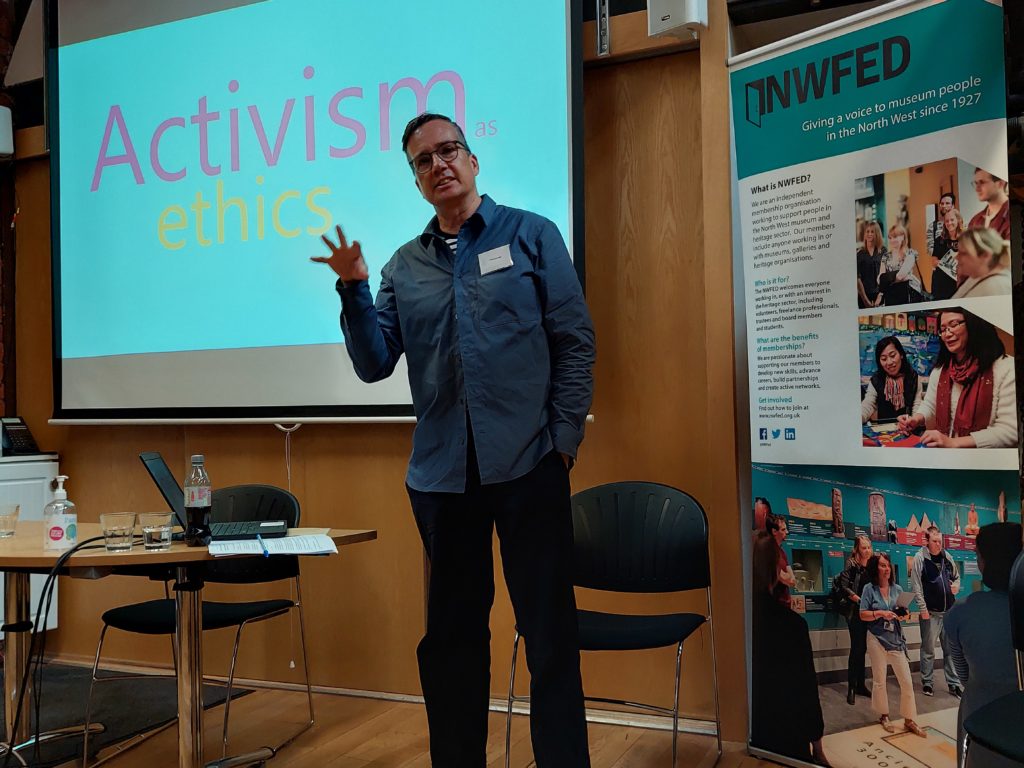 Activism was demonstrated to have a number of definitions but in Sandell's own definition of 2019 it is described as "museum practice shaped by ethically formed values, that is intended to bring about social, political and environmental change".
Richard acknowledged there were significant challenges for museums in this position:
How do museums make a case for this practice?
How to overcome censorship or self-censorship?
How to encourage reflection rather than rejection of these positions in visitors?
One reply was that there is always pushback in any perceived non-neutrality as "culture is always political". Of the possible responses to this it was argued that self censorship/evading the question or simply presenting a series of options for visitors was not only unhelpful but harmful. In fact, the only socially responsible response, Richard argued, is one that articulates a particular position, as this demonstrates a museum's solidarity with the communities with which they are working.
In the following session, National Lottery Heritage Fund North Manager, Shanna Lennon, indicated that co-production was the key (in many cases) to a successful funding bid. Shanna acknowledged the difficulty of bidding for a
co-produced project when the outcomes and outputs are inevitably not known and hence cannot be described on an activity plan. Instead, providing evidence of research into the chosen community that informs methodology and costs is preferred.
After this inspirational morning, we were given a tour of the museum and saw for ourselves the Migration-focused work which now has a permanent place in the museum.
Stories shared for Migration: A Human Story are now placed within historical narratives in the permanent gallery.
These juxtapositions provide a contemporary, personal response to 'people's history' that has the effect of lifting these displays onto another level of engagement.
Look out for part two of Claire's review of this event coming soon!