Tuesday, August 30th, 2016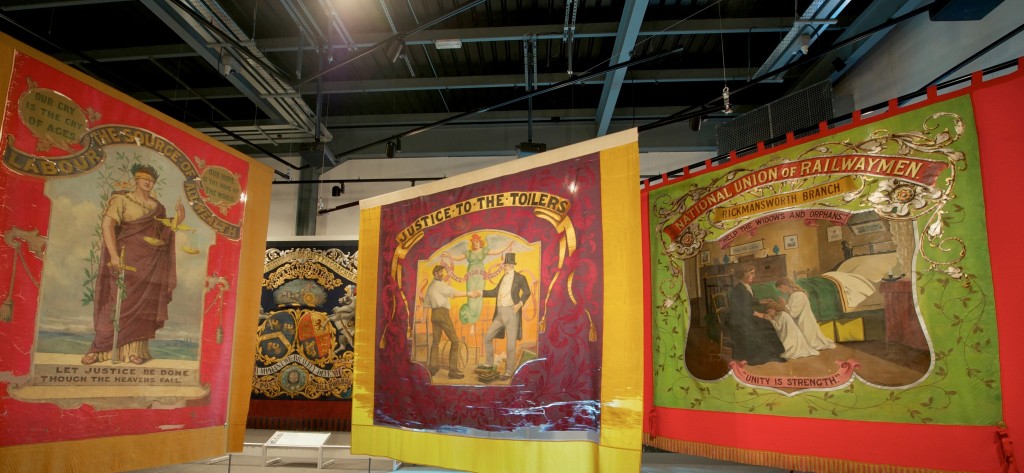 Banners section – Main Gallery Two @ People's History Museum
As Arts Council England announces the successful applicants of its second round of Museum Resilience Funding, organisations across the North West have been celebrating success.  John Orna-Ornstein, Director of Museums at Arts Council England explained:
'The focus of our investment approach for museums in 2015 – 2018 is on building a more resilient sector.  The Museum Resilience Fund is a key part of that, providing vital support to museums right across the country.'
One of the North West's successful recipients is Manchester's Peoples History Museum who have been awarded £273,600 to undertake their project, Builders and Dreamers: the future of ideas worth fighting for, which will transform the museum over the next 18 months with the ambition of becoming a cultural centre for Manchester, the North West and the UK; a space where people debate and discuss the key ideas and issues facing society today. Katy Ashton, Director explained PHM's delight at being granted the funding to undertake such an ambitious project:
'The funding will enable us to strengthen the museum and add capacity in key areas which will make a real difference to the museum's future.  By supporting the museum with this funding, the Arts Council is helping us to achieve our big ambitions as the national museum of democracy and home of ideas worth fighting for.
There are some extremely important anniversaries on the horizon for our museum to champion and lead, with a programme of activity on LGBT+ rights planned for 2017 in recognition of the 50th anniversary of the Sexual Offences Act, the centenary of women first getting the right to vote in 2018 and the bicentenary of the Peterloo Massacre in 2019.  These are all huge opportunities for the museum and for our partners and audiences and we're very excited to now have the additional support that comes with this grant.'
The Museum Resilience Fund is investing £30 million during 2015 – 2018 to focus on any gaps or development opportunities for excellent museums of all sizes.  To find out more about the fund and its recipients so far, Click Here.