GUEST BLOG: I ♥ Museums
You may have noticed little lime green and blue I ♥ Museums logos appearing on Twitter. The National Museum Directors' Council (NMDC) – with the support of the other museum representative bodies – has embarked on a public campaign ahead of the Comprehensive Spending Review, budget consultations for local authorities and greater devolution of power to regions and cities, including the North West. We would very much like all museums in the North West to be a part of the campaign.
The UK museum sector is more vibrant, popular and internationally respected than it ever has been, but this position is now at risk. Investment in museums by central and local government has drastically reduced since 2010, and as the Chancellor announces that non-protected Departments have to model up to 40% budget cuts, this will continue. National museums sponsored by DCMS – including National Museums Liverpool, Imperial War Museum North and MOSI – have had cuts of c.30%, and local authorities have reduced their investment in museums by up to 60% in some cases. Many museums have managed this swift change with characteristic pragmatism and transformed themselves into cultural enterprises. Nevertheless, however successful those enterprises are, the additional income or new ways of working is unlikely to enable them meet the high fixed costs of the three things unique things about museums that enable them to have the impact they do: their collections, their buildings and skilled staff. The impact of further cuts may not always be seen immediately (or even within the life of this Parliament) but it will certainly be felt by those who need museums in the future.
NMDC has launched the I ♥ Museums campaign because it has never been more important for museums to demonstrate that the public love and trust museums, and why. Museums preserve, promote and protect one of the few irreplaceable public assets: the nation's collective memory, knowledge and history. As museum professionals, we work in one of the few civic institutions that simultaneously serve a local, regional, national and international audience, and an online audience who may never cross the threshold. Museums uniquely serve a public past, a public present and a public yet to be born.

I grew up in the North West. I was one of thousands of schoolchildren who climbed the big spiral staircase to be awed by the mummies, dinosaurs and elephant's head in Bolton Museum; as a student I immersed myself in the Worktown Collection to research leisure activities in 1930s Bolton; and now as an adult I escape Christmas shopping and head to the Art Gallery to look at the beautiful Thomas Moran Nearing Camp or discover something new, most recently the clothes designed by Constance Howarth. The Museum helped me learn as a child, it provided the basis for original research as a student and as an adult it contributes to my health and well-being (and me to the cultural enterprise, as a large Worktown print bought in the museum shop hangs in my living room). The idea that future Bolton residents may not have this sort of access to their own heritage is not just sad, but damaging to the social, cultural and economic vitality of the whole town.
Visiting a museum has never been such a popular pastime, and I am not merely basing this on the number of people who have been to The Whitworth since it re-opened. The DCMS Taking Part survey shows that 62% of children and 52% of adults in England visit a museum each year. NMDC wants to capitalise on this popularity and the affection people have for museums, and provide a platform for museums to demonstrate that they are loved and trusted institutions both nationally and within local communities, and are worth protecting even in the face of substantial cuts.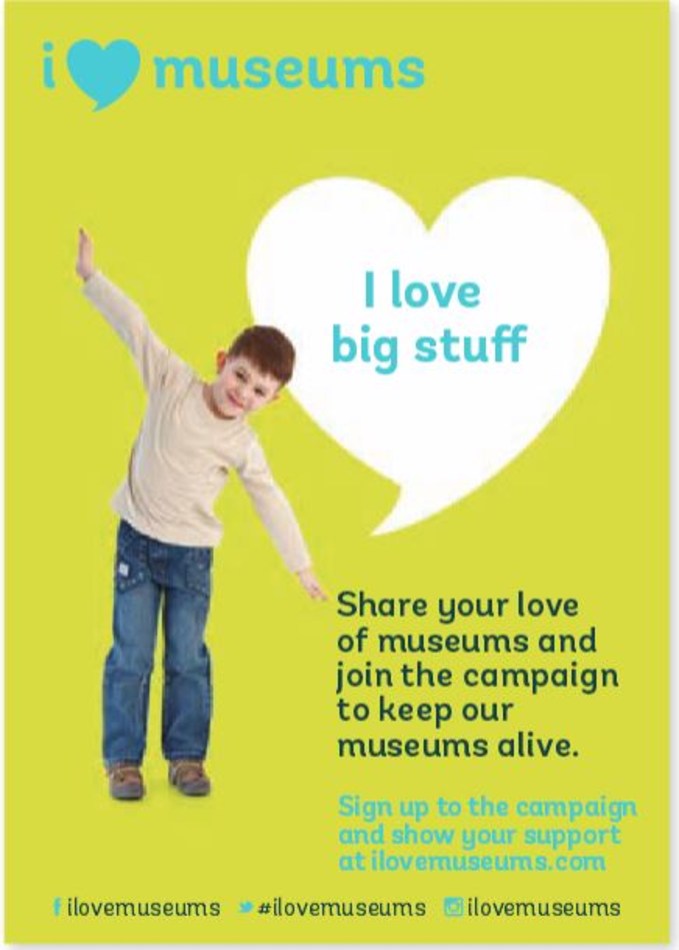 And if your museum isn't one which receives direct public investment, then we still want to you to be involved in the campaign. All museums benefit from public investment in some form. Your museum may have received project funding from Arts Council England, or worked in partnership with a national museum. You might have had some capital funding from the local council or received some helpful advice from your museum development officer. Like a giant Jenga puzzle, the health of the whole museum sector depends on not significantly weakening any aspect of it.
The campaign website – http://ilovemuseums.com/ – includes resources for museums to use online and onsite, as well as a way for the public to sign up and say why they love museums. People can upload their own photographs and tell us what museums mean to them. @ILoveMuseums and #ilovemuseums drives the social media element of the campaign and will be used to announce different stages and press moments in the campaign. There are digital resources to add to social media accounts, draft letters to send to local councillors and MPs, and details of how to order pin badges, ballot boxes and cards. From October there will be advocacy tools including briefings and a document, Museums Matter.
Museums can use the campaign locally, be as creative as they wish and organise their own I Love Museums campaign. NMDC will use it nationally to illustrate why museums matter across the UK. We hope museums of all sizes – from the biggest nationals to the smallest volunteer-run collection – will take part and unite behind the campaign.
Katie Childs, Policy and Projects Manager, National Museum Directors' Council
www.ilovemuseums.com                    www.nationalmuseums.org.uk
@ILoveMuseums                                  @nmdcnews
Leave a Reply